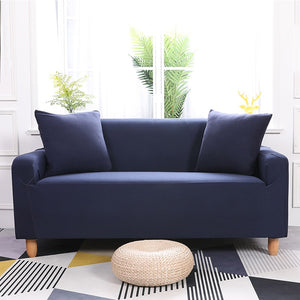 Worldwide Shipping
Easy 30-Day Returns
International Warranty
100% Secure Checkout
Breathe new life into an old sofa with these amazing CoverMySofa™ vibrant elastic and stretchable covers.
Our sofa covers are suitable for 'L-Shape', 'Single Armchair', 'Loveseat' and 'No Armrest Style' sofas (see 'How to pick correct size & install' below).
A durable plain dark blue sofa cover that will enhance your furniture cosmetically and functionally. Whether you have a new sofa that you don't want to get ruined or a second-hand sofa that needs a face-lift, our covers save you money and they're easy to fit and take care of.
Before you spend a fortune having a sofa reupholstered or just throw the whole thing away, consider one of our amazing CoverMySofa™ Covers.
The fabric of this sofa cover stretches to fit even hard-to-cover sofas and is designed to stay in place.
There are many variants to choose from in our range which will add a great visual interest and colour options that let you choose the perfect look for your room.
Stretchy & easy to fit


Made with high-quality polyester and spandex to create a tight fit on any size and shape sofa.

Spill & stain protection

Can help to Protects your sofa from most spills and stains.

Vibrant colors

Designs in multiple colours that will give your interior a major focal point to upgrade your living space.
Machine washable


Fully machine washable on a warm wash.

Hard wearing

Made from durable material that's ideal for protecting your sofa.

High-quality fabric

Made of high-quality fabric 85% Polyester and 15% Spandex, Making a very secure and snug fit.
Measuring your Sofa:
- Measure from A to E depending on the type of sofa following the red lines up and down the arms.
NOTE** It is important to measure up and down the arms of the sofa.
1 Seater: Sofa length between 90-140cm
2 Seater: Sofa length between 145-185cm
3 Seater: Sofa length between 195-230cm
4 Seater: Sofa length between 235-300cm 
Measuring an "L-Shape" sofa you will need two separate covers as shown above. Please measure accordingly.
How to Install:
1. Position the CoverMySofa™ cover over the sofa with the label at the back.
2. Pull the cover over the sofa in the right direction.
3-4. Secure the slipcover by tying it underneath with strings.
5-6. Tuck foam sticks or cloth strip into the gap of the sofa.
---
Frequently Asked Questions
 Standard Delivery (7-10 business days*)
- Free Shipping on all orders over £100
- Please note, standard delivery may take longer for remote locations.
- Gift cards are sent via standard delivery.
---
* Current delivery times are around 7-10 days but please be aware that we state our shipping and processing can be 7-15.
We also aim to ship our order in the fastest time possible. All order are also shipped during working hours Mon-Fri (not including bank holidays) Please allow longer shipping times during extreme busy periods i.e Christmas.
We are also not responsible for delays that are out of our hands or wrongly inputted addresses. Our shipping times are for major locations around the world - USA - UK - Europe, all other locations may have a slightly longer shipping time depending on the location.
Yes! Any unopened items can be returned to us within 30 days of delivery for a refund. Take a look at our Make A Returns for more information.
We accept Visa, Mastercard, American Express, Maestro, Apple Pay, Google Pay,
Easy to fit. Stays in place pretty well. Have ordered a second one.
Abby Dark Blue Sofa Cover
Sofa cover
Delighted with my new sofa covers from cover my sofa,great to deal with and very fast delivery
Revitalised our room
The sofa cover looks good - it's not quite as neat as the photos suggest but it has covered a very old battered sofa and given it a new lease of life. I bought another one to cover the second sofa, as I was so pleased with this one. Easy to fit too- I did it on my own.
Very happy
It took longer than I'd hoped to arrive but when it did, I eagerly covered our sofa with it. It took several attempts because there were no instructions and wasn't clear just by looking at it which part belonged where. However, it's now on and it has transformed the room. Will probably get another one for our other sofa.